Yet Lust would have eternity,
— Profound, profound eternity!

In the early summer of 2011, Wilfried Laule took the above quotation from Nietzsche as the title for his solo exhibition in Amberg in der Oberpfalz. The local art society, A.K.T., was showing his large-format paintings from the 80s and 90s, supplemented by more recent, smaller works. Generally speaking, the Oberpfalz region of Bavaria is considered conservative, but anyone expecting a scandal would have been disappointed.

This was not always the case. It is difficult for many viewers to draw the dividing line between eroticism and pornography when contemplating works by Wilfried Laule. Based on drawings and on different levels of abstraction, his works fantasize through scenes depicting encounters between those people portrayed and between the viewer and the actors of the respective scenarios.

Wilfried Laule lends a materiality to these intimate and fleeting moments that the conservative-minded find hard to endure. In the 80s and 90s an artist still had to deal with hostility. Along with his commitment within the gay movement (in Berlin) many ‒ even his fellow campaigners ‒ saw his playful dealing with sexuality as a provocation. His works also revealed his coming-out, his self-acceptance, and the experience of homosexual desire without feelings of guilt or inferiority. The image of man was state-ordained and internalised as from the 30s and 40s in Germany, and after 1945 it became a taboo subject like the Third Reich in general. It took many years, even after 1968, until it was possible to approach the male nude without inhibitions again in Germany‒and this was true of art as well.

At the end of the 70s he developed an interest in Berlin's "Klappen" (i.e. the public toilets) and documented the graffiti he found there recording unbroken longings and pornographic dreams. He published a book about them entitled "Graffitis für Vespasian" in 1983. Today, one could regard the "Klappen" scene at that time as equivalent to the Internet and diverse other platforms: they offered a space for secret and casual encounters between men. They simultaneously concealed (from the general public) and published (within the gay scene) sexual desires, longings and variations. Things that can be visualized quickly and with few pretensions via digital photo worlds today once demanded creative, artistic handling.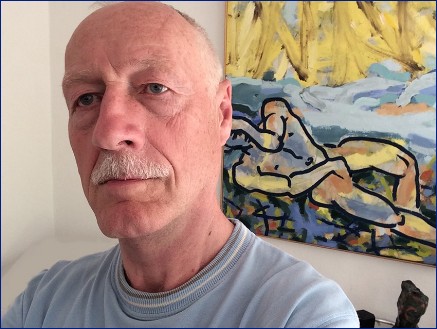 The themes constituting the canon of Wilfried Laule's erotic work are this libidinous, direct aspect, the magic of the erotic moment, the sultry atmosphere of the staging, the psychology of purposeful stimulation, the affirmation of one's own lust, an openness to encounters, and pre-orgasmic tension.

His first exhibition with obvious scenes of male-male lust took place in the Anderes Ufer, an trendy bar in the Berlin district of Schöneberg in 1978.


From the very beginning, the bar had been a location for free and gay art; afterwards, much of it made the leap into the commercial gallery scene, several artists becoming successful. One might suppose that his art was more likely to be provocative in those places where he had left safe gay territory ‒ but you would be mistaken: even in 2005, his paintings were almost taken down, or at least moved, in a gay-Lesbian publishing house because of their provocative impact.

He commented on this in an interview for the magazine blu in 2011: "There is an unwritten rule, show no cock. Even if it's not erect and only a body part like any other body part. Many people are incapable of seeing anything but the cock. Really, I hadn't expected that sort of provincial outrage over my Barberini Faun in the Berlin publishing house ‒ not there, of all places. The Barberini Faun is a Hellenist sculpture, produced around 200 A.D. A pope in Rome saved it from destruction. Today, it stands in the Glyptothek in Munich, and there is a Baroque version in the Louvre in Paris. The sculpture was an eye-opener for me many years ago. Art history talks about the "intoxication of sleep". It was clear to me that one man here was doing what customary rules allow to women alone: letting himself go ‒ it was all about erotic self-surrender."

Wilfried Laule's pictorial worlds can never be described, drawn or painted in their entirety. The expectations that his images can may evoke while viewing them lead us to continue imagining these stories, perhaps even thinking them through to the end, comparing them with what we have experienced, remembering. But not everyone is equally prepared to do this. In this context, Wilfried Laule likes to recall a poem by Goethe: "Why did you give us deep insights?" Those who are prepared to immerse themselves in the depth, who can face up to that, will see in his works a philanthropic framework shaped by a deep humanism and therefore recognise their poetic character. The colours underline the dynamic aspect of his works; his images sparkle with joie-de-vivre. This catalogue gathers together a cross-section of Laule's art. It reveals an important connecting thread, and along with all those who can still do so despite the newly arising prudery, I look forward to this preoccupation with the topic of LUST.

Franz Werner in March 2013

Wilfried Laule was born in Eigeltingen near Constance / Lake Constance in 1945 and studied at the State Academy of Fine Arts in Stuttgart from 1968 to 1970. From 1970 to 1973 he studied at the College of Fine Arts (Hochschule der bildenden Künste) in Berlin and was a master pupil in the class of Professor Thieler. His first solo exhibition with paintings and graphic artworks took place in the legendary "Anderes Ufer" in Berlin in 1978. He worked as an art teacher at a grammar school. His artworks were published in various magazines and books, and a number of group and solo exhibitions followed at home and abroad. In 1993 he published a volume of photographs about erotic graffiti, "Graffiti für Vespasian", in the rosa Winkel publishing house. In 1991, in a show of his oeuvre in the Schwules Museum in Berlin, he was also able to present many of his large-format paintings. At the Agora, part of Homolulu II in 1992, he also exhibited a considerable number of large-format paintings and in remembrance of those who had died from AIDS, he showed a large-format video projection in the Freie Volksbühne Berlin entitled "Dass alles gleitet und vorüberrinnt..." In 1999 he was represented by Galerie Anton in Prenzlauer Berg, Berlin. The gallery devoted a solo exhibition to his works, and a very attractive catalogue was produced. On the occasion of CSD 2000, he participated in a group exhibition in the Kulturbrauerei Berlin. In 2005 he exhibited many of his large-format works in the Kutscherhaus im Jackwerth-Verlag, Berlin. In 2006 he showed watercolour works in a solo exhibition in the gallery Les Mots al la Bouche, Paris. In 2008 his erotic drawings were shown for CSD in Warsaw. At the end of 2008 HS-SOLID in Berlin presented his large-format paintings from the 1980s and 90s in their offices am Spreebogen, in an exhibition entitled "Berliner Resonanzen". In 2008 he moved from Charlottenburg to Neukölln and subsequently participated more frequently in group exhibitions at the Neuköllner Kunstsalon, the Coaching Culture Gallery in the old Kindl Brauerei Berlin, at the Berliner Kunstsalon art fair 2010, and Bagle afFairs 2011. A major, comprehensive solo exhibition with his large-format works from different periods to the present day was organised by the Kunstverein Amberg A.K.T. in 2011. In this context he published an interview in the magazine blu.

Translation: Lucinda Rennison